Cougars Care 4 California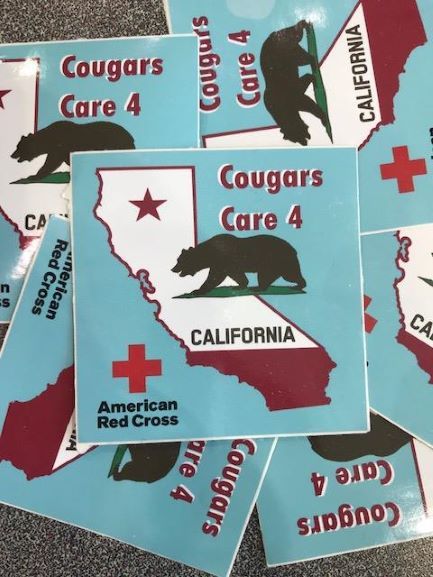 Hang on for a minute...we're trying to find some more stories you might like.
The holiday season is known as a time for being generous and giving thanks. CT decided to contribute to these staple holiday-season values by launching the Cougars Care 4 California campaign to support those affected by the California wildfires.
During all three lunches from Wednesday, Dec. 5 through Friday, Dec. 7, as a collaboration between the Rotary Interact, Red Cross, Pre-Med, and tech-theatre clubs, sponsored by Mrs. Pamela Graham and Ms. Sarah Copeland respectively, student volunteers helped raise donations to support the victims of the ongoing wildfires as well as demonstrate their gratitude and appreciation towards the California firefighters.
Students could approach the table set up during lunch to donate change and sign the specially-made banner thanking the firefighters working to tame the flames. Students could also pick up their very own Cougars Care 4 California sticker as a reminder of their contribution.
"We started with just wanting to do 'Coin Wars' to collect money for the Red Cross to go specifically to the California wildfire victims," explained Activities/Athletics Assistant Pamela Graham, sponsor for Rotary Interact and the Red Cross youth club and a coordinator of Cougars Care 4 California.
"But then, I happened to get an idea about the banner because we were thinking, those poor firefighters are just, you know, risking their life everyday…I thought: how cool would it be to send them a banner and show our appreciation for what they've done," Graham continued.
A number of student volunteers pitched in to help spread the word of the cause and encourage their peers to contribute.
"The poster will go to a fire station in California, and you don't need money to sign the poster, so, it kind of gets everyone involved," student volunteer Tyler Hyong (11) said. "It's always a great feeling knowing that you're helping out people."
"I think it's a really cool cause. It's a big deal right now," Gabriella Johnson (11), another student volunteer, said.
The campaign appeared to be this year's version of the Hearts for Houston campaign, launched last year to support victims of hurricane Harvey. The reemergence and success of a similar campaign in this year's Cougars Care 4 California illustrates CT's dedication to supporting causes greater than their own, uniting as a community to create change.
"Last year was really successful for the Hearts for Houston," Graham said. "I'm a little concerned that we're so close to Christmas that a lot of people don't have a lot of discretionary income, but that's okay…Every little bit helps, and just signing the banner, I think, makes people feel good."
The campaign was a clear success, raising a total of $767.48 in the three days it was active during lunches.
During an announcement the morning of Thursday, Dec. 13, the winner of the class "Coin Wars" competition portion of the campaign was revealed as being the freshmen, raising $226.17. Second and third place were close, the sophomores earning the former place with $185.25 and the juniors winning the latter with $183.91, representing a difference of only $1.34 between the two. Finally, the seniors came in fourth, raising $172.15. The announcements also stated that the campaign would continue to accept donations through Friday, Dec. 14.
"We are truly lucky to have students who always come together to help others," the announcements said.
No matter what students may or may not be able to contribute this time of year, they can be reminded of their power to unite around a common cause and show gratitude during the holidays to people across the nation. Despite being short-lived, it's clear that the impact of students' small acts of kindness – through their donations and the comforting power of their words on the banner – will endure through these troubling times for those being affected.