New Generation, No Bounds
The instant success of Billie Eilish's "Bury a Friend" showcases the power and influence of teen role models in the modern day.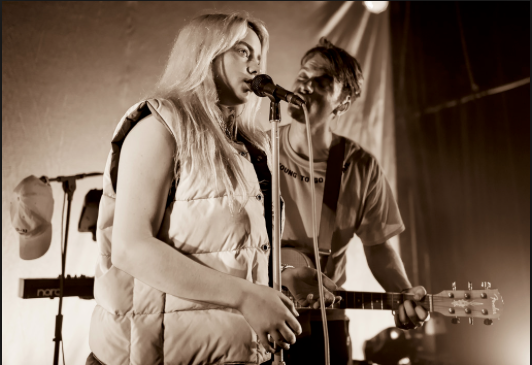 Hang on for a minute...we're trying to find some more stories you might like.
Billie Eilish dropped the music video for her new single "Bury a Friend" on Wednesday, Jan. 30, and the video seemed to immediately garner a powerful positive response, quickly launching to number one on the YouTube Trending page and maintaining that place into the following day. By the writing of this article, the video had reached 1.4 million likes and over 10 million views.
The comment section was flooded with praise for the song's unique sound and the video's eerie aesthetic reminiscent of horror films.
"Number 1 on the trending page and to be honest deserves to stay there forever!!!!," one user said.
"I loved everything about this, the horror aspect of it is amazing," said another.
"Addicted to this song," another user commented.
Classic, creepy, horror movie imagery was featured throughout the video, including: flickering lights, long, dark hallways with Eilish floating eerily through them, Eilish with blacked out eyes and hiding under a bed, syringes and hands with black latex gloves. The song itself also featured unsettling sound effects characteristic of horror films and dark lyrics, all culminating into a disturbing and hauntingly intriguing new hit.
"I really liked ["Bury a Friend"]. I think the beat is different and she's really good at making new music that's very unique compared to her other albums," Billie Eilish fan Kendal Tubb (12) said.
"A lot of people said it was too creepy, and I understand that, but…[I'm] kinda into the creepiness…like, people are shocked by it, but I'm like: 'She['s] had spiders coming out of her mouth,'" Tubb continued, in reference to the music video for Eilish's "you should see me in a crown," released on Aug. 10, 2018, in which Eilish appears to have spiders crawling out of her mouth, giving off a creepy tone similar to that of "bury a friend."
The song "When the Party's Over," another single recently released by Eilish and whose music video premiered on Oct. 25, 2018, seemed to also carry a creepy tone, featuring Eilish appearing to cry black tears.
All three singles are expected to be a part of Eilish's debut album: "When We All Fall Asleep, Where Do We Go?," dropping on Mar. 29, and the creepy common denominator between them may be a hint at what audiences should expect to see in this new album.
"I really liked ["Bury a Friend"]… It's pretty different than her other stuff, but it's fitting of her vibe still and I think it's interesting to see what she's gonna do with her next album," Emma Whitaker (12) said.
Like Tubb, other fans of Eilish also appear to appreciate her because they see her as able to express herself in a unique and unapologetic way.
"She's real. She doesn't try to make stuff up about her life that isn't true and she's real about [what] she feels, which is unique for someone her age in the [music] industry," Whitaker (12) said.
The fact that Eilish has risen to success so quickly and at only 17 years old appears to elicit admiration from other young people and make her an important role model in their eyes, showcasing the value of teens having celebrities to look up to who they feel they can personally relate to.
"I've been following her since [the beginning]. She released her first single when she was, like, 14, which is insane," Whitaker said.
Eilish's perceived emotional maturity beyond her years, evident in the subjects of her songs, also appears to be a source of fans' admiration of her and makes her an important and influential figure for her teen fans.
"The level of emotional depth, I just think it's really interesting because…sometimes I think that I've felt, as a person, way beyond my age, and it's kind of nice to see somebody on a public platform that really speaks about what it's actually like, the real depth, of being this age," Whitaker continued.
Eilish's rise to popularity also appears to showcase the power of social media as a platform in the modern day to give young people more opportunities to be impactful public figures then may have been possible in the past.
"I think a lot of people are finding that they can be very influential while using social media as a platform, and I think that's something really cool that we can explore because social media isn't always negative," Tubb said. "I think it's very important we understand that this new generation has no bounds, because as young as you are, you can get famous doing anything."
Eilish is currently on a world tour across Europe and the U.S., during which she is expected to travel to Indio, CA and perform at the Coachella Valley Music and Arts Festival on April 13 and 20.