Veteran's Day Celebration
Hang on for a minute...we're trying to find some more stories you might like.
On Thursday, November 9, 2017, beginning at noon, CT Student Leadership organized and hosted Cherokee Trail's annual Veteran's Day Celebration in the Upper Lecture Center. Veterans and their families, including CT staff and students, were invited to celebrate and honor those who have served in the armed forces. This photo series illustrates the various events that took place through the course of the ceremony and the wide variety of ways in which students and staff expressed their gratitude towards veterans for their service. From choir performances to art pieces to cards and speeches, staff and students channeled their creativity in order to all proclaim the same message: Thank you, veterans, for all you have sacrificed and all you have done and continue to do for our country.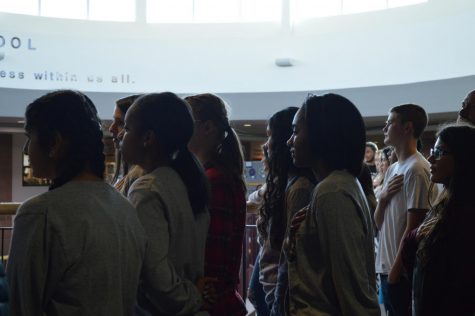 Alani Casiano
The event opened with the singing of the National Anthem by CT choir student teacher Nicole Rabat. As she sang, a sea of CT students, staff, and servicemen and women alike could be seen standing in unison, with their hands over their hearts, in shared respect of the American flag. "They gave up so much for us, so I think it's important that we thank them," said Rabat. Similarly, Sarah Wood (10), a member of CT Leadership who aided in organizing the event, said, "I would not be sitting here in this school if it wasn't for veterans." Wood went on to describe her gratitude for the opportunity, as a girl in America, to get an education, a privilege and freedom she believes is protected by veterans and that, she described, girls in other countries don't have.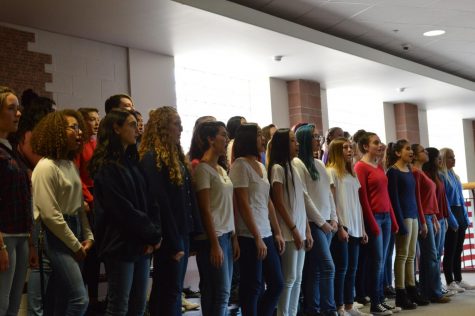 Alani Casiano
Following the National Anthem, CT's Choralaires choir performed, conducted by the CT choir teacher Robert Wright. "Sing from sea to shining sea…sing a song of liberty…" sang the choir, in a song which included excerpts from My Country 'Tis of Thee.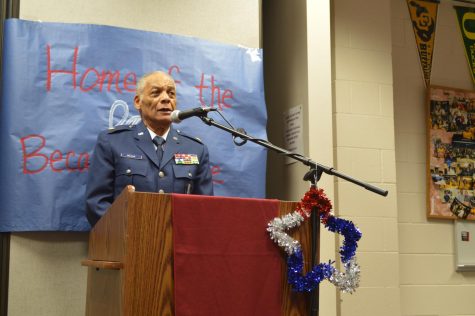 Alani Casiano
The main part of the event kicked off with a large variety of speakers, including students and staff, as well as dozens of veterans, each related in some way to a CT student. One of the first speakers was Assistant Principal Dr. Enrique Rosales, who said, "We're [here] to honor our heroes for their courage and their dedication…We stand here in the midst of patriots who serve [us] nobly."
A large number and wide array of veterans took a moment to speak about their experiences, which included everything from veterans who have stepped foot in North Korea to those who have traveled to many nations across the globe, to a veteran of World War II.
Many offered messages encouraging individuals of the younger generation to take pride in America and to maintain the same American pride that they appeared to hold as the next generation ages and gets the opportunity to join the military. Many also encouraged young people to recognize and utilize their potential, coming up as the next generation in America. Veteran Clifton Réaux (pictured above) said, "I've lived in 14 different countries around the world…I understand why people risk their lives to come here…This is the greatest country in the world."
Some offered encouraging messages to women specifically. A female veteran described her belief that the military is a viable option for women and encouraged women who join the military to work hard and distinguish themselves. Réaux continued with a similar message, stating, "I want to tell all you young girls, the sky's the limit."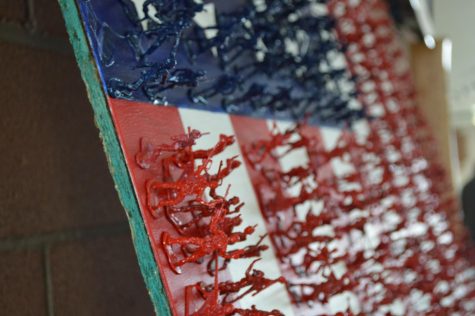 Alani Casiano
Students went on to speak about art pieces them and other students had created for the event. Elyse Summer (9), described an art piece displayed outside of the Upper Lecture Center she helped to create, which included spray painted red and blue military toy figures against an American flag backdrop. She described how the piece embodied "freedom and unity" and "symbolizes [the] honor and sacrifice of people in the military."
Another CT art student, Malena Quesada (12), described a photograph of white boots and an American flag she took for the event and how it illustrated a personal story of hers: how immigrating to America from Cuba had a positive and significant impact on her and her family's lives. She also expressed her gratitude towards veterans. Of the white boots and flag, she said, "These are two things I value greatly…[they] make me American." Of veterans, she said, "Thank you for the freedom you have given me."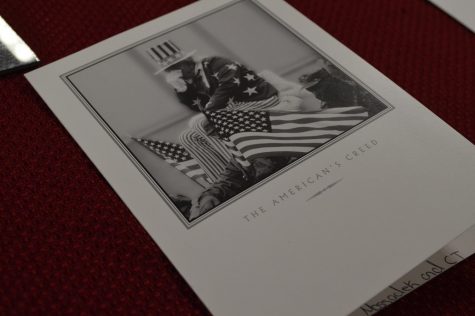 Alani Casiano
Each veteran at the event received a card with a message from a student thanking them for their service as well as a miniature American flag in which each of the 12 folds in it represented a different virtue, things such as liberty, peace, and purity.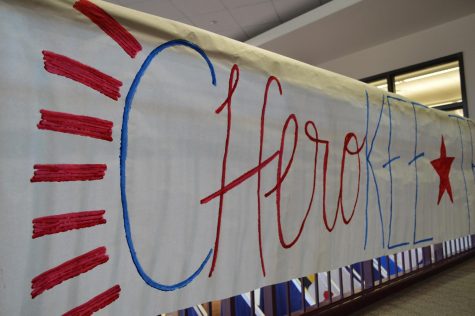 Alani Casiano
For the event, the Upper Lecture Center was decorated with a variety of posters created by Student Leadership, such as the one pictured above, highlighting the "hero" in "Cherokee Trail" and symbolizing CT's gratitude and pride towards veterans.