Don't Believe The Hype
Senior Year Expectations vs. Reality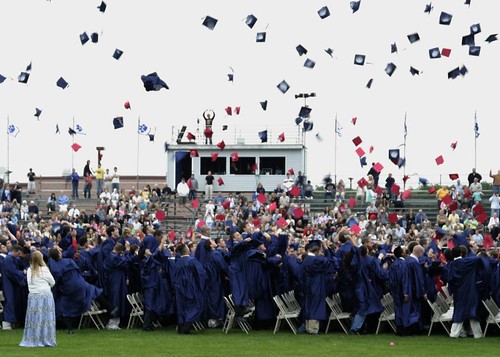 Loading ...
Renowned as the best year of high school, the hype and legends of senior year are well known. The thrill of being the oldest, the excitement of "last firsts" and the anticipation for college all combine to – supposedly – make senior year the be-all, end-all of high school.
Donovan Swift (12) has been on the football team since freshman year. "Not much has really changed," Swift said. "[I expected] an easy year, which is not the case." Senior year has the reputation of being the easiest of the four, and "senioritis" often infects the grade immediately. When asked how he thought he would feel as a senior, Swift said "[definitely] much different than this".
Not everyone shares Swift's attitude, however. IB student Sanjana Vookanti (12) said she "was very excited to be a senior…it has definitely lived up to that hype." She adds "[When I was an underclassman] I thought the seniors were really cool." Although she disagreed with Swift's less than thrilled reaction, she seconded his statement about the workload. "I thought it would be more chill than it is," she said, "but I'm still excited!"
On the contrary, fellow IB student Stephan Legarburo (12) said that he, "imagined it would be very hard…especially because I'm an IB student." While Swift and Vookanti anticipated a lighter workload, Legarburo geared up for the challenge.  He found his expectations exceeded reality when school began though. "So far it's not that bad. Junior year was a lot more difficult," he said. Now that senior year has finally come, Legarburo feels "good" and found that it is much less "intimidating" than he imagined senior year when he was a freshman.
Legarburo isn't the only one who imagined a senior year power boost. AP student and artist Nick Stirbis (12) envisioned senior year would be "crazy…like powerful." Now that he's living it, he has found that those power-trip expectations might not be true, but he still "feels relieved…I'm definitely enjoying it… I feel like I am more involved".
Cross Country team captain and Girls' Track state champion Madison Gibson (12) always thought that senior year seemed "really far away…[I thought] high school was going to go by slow," she said. As a freshman, the seniors were "really intimidating,"  but now as a team captain, she fills those shoes that once seemed huge. For Gibson, the year is going as expected – "it's going to be our last year together…so far it's been fun," she said.
Unlike the others, Gibson didn't enter with any specific expectations – but that's not the case for IB student and actress Helen Nguyen (12). "Imagining senior year, I thought that I would be stress-free, laidback, and just finalizing everything," she said. Once senior year kicked in, Nguyen was disappointed to learn otherwise. "[One week in] I was already kind of stressed," she said. Despite the shattered expectations and the pressure, Nguyen is still "looking forward to all the lasts…I like it [senior year] a lot," she said.
For these seniors, it seemed that often the reputation of senior year preceded – and then disappointed, but there is still much of the year left to be seen.