Poms: State Champions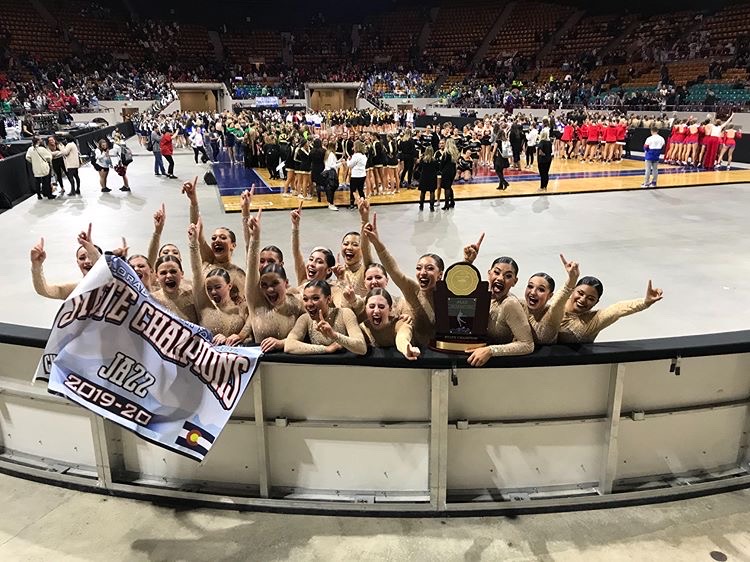 Hands clasped tightly to one another, heads bent down, and eyes closed. The gymnasium booms with the sound of the announcer's voice. Third place goes to…Their voice trails on to proclaim the name of another school. Cheers of excitement follow. Second place is announced and the heart rates rise. Will it be us? The thought runs through the heads of many talented members of the poms team. That is until the moment comes, the breathes shorten and with the few words they all prayed for; first place was all theirs.
All of the efforts put in during countless practices, competitions and school events paid off this year as poms took on a role that they previously hadn't met during this year's state championship. "We were kind of the underdogs going into it not having made it into finals for jazz before," Emma Reichert (11) said. It all began in July when the dance was first introduced to them, and from there on out they gave it their best. "We warm up with running then do a 20 minute stretch then abs, which is usually holding a plank for 4 minutes then we run the technical elements of the dance," said Brooklyn Gibbons (11). It wouldn't be uncommon to have heard dance isn't a sport but this surely proves otherwise. The girls in poms have both endured a hard balance of school, practice and their everyday lives to establish their winning title and other performances as well. With countless hours put into practicing and perfecting their skills, the result that our team achieved was no mere coincidence. "We go into weights in the morning and then school then home or even straight to practice after school for 3-4 hours," said Gibbons. The team doesn't just work hard on the dance floor but also puts in extra work off the floor "We would do film corrections at home," added Emarie Rodriguez (12).
But all that effort wouldn't mean anything without the heart and passion they had to put in. "It's so exhausting but it's so worth it because if we make it to finals on that floor you can literally feel the music through your body," said Reichert. Their winning dance incorporated spine-chilling and alluring choreography that challenged them and the norms of poms. "Essentially it was about how we all as individuals shouldn't be held to a standard of being 'only human' we should always push against that standard," said Rodriguez.
Even though the team has accomplished great success so far, they know that they have not reached their peak and that there is more to accomplish in the upcoming weeks "We are capable of working hard and motivating each other to be the best we can be.  Nationals is an amazing opportunity to show off our colorado schools talent, and continue being passionate through our pieces." said Rylee Mortensen (12). As the team prepares for on coming events, it's no doubt they will exceed their previous goals and push themselves for another title, and for the community of strong women around them.
See the Poms compete at Nationals in Orlando January 31- February 2.
https://tv.varsity.com/events/6202596-2019-uda-national-dance-team-championship?utm_campaign=2019udanatdanceteamchamp&utm_medium=referral&utm_source=uda.varsity.com&utm_content=website&rtid=48198&coverage_id=6202596