Diving into Frisbee
Running week after week-long is not the most pleasant thing globally, but the cross country team makes running fun by playing ultimate frisbee every Friday during winter track.
The cross country team runs all year to stay in shape. Winter track is the rest period between the end of the cross country season and pre-season training for track.
Most of the newcomers are not aware of the team events like team dinners or frisbee. "My first time, I thought it was kind of a lot because I didn't know it was there, and I didn't know the game very well," said Megan Selenke (10).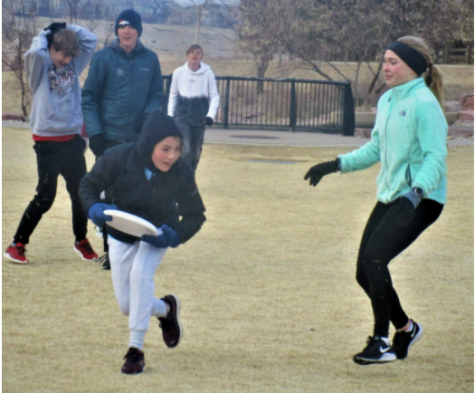 The cross country team finds any excuse to play frisbee. It gives the team a break from working all week long and is used as an award to treat them for all their hard work. Frisbee is run by the team and is optional for those who don't want to participate, but nobody ever wants to opt-out. "It motivates people to come to practice," said Beck Gutjahr (10), "it also kinda guilt trips people because you can't just do frisbee; you have to go to practice too."
In an article published by Brian Scudamore, the founder, and CEO of O2E Brands, he listed the benefits of team building and its importance. "It builds trust, mitigates conflict, encourages communication, and increases collaboration. Effective team building means more engaged employees, good for company culture, and boosting the bottom line. It can also be adventurous and enjoyable if you do it with a little pizzazz," said Scudamore.
Frisbee is how the team welcomes new members and where the team's rankings don't matter, and everyone has the same ability. "A lot of people on the team are faster and better than me at running, so [frisbee] is more just like a way for me to get back up on the top and boost my ego a little bit," said Landen Sutterby (11).
Team dynamics change during frisbee too. Everyone has their ups and downs during a game, and the team's response to them can be shockingly fun. The team teases each other and talks themselves up, but no matter who scored, the team always celebrates as a whole, despite their competitiveness.
"The game itself is really fun to play but playing with the team is more fun because you all tease each other, and you get to compete against your friends and make fun of each other," said Gutjahr.
A lot can happen in one game of frisbee; something always interesting happens—crazy catches, dives, an unexpected frisbee to the face, or breaking your teammate's ankles. Nothing feels better than catching the game-winning point in the end zone and having everybody go wild with joy or a diving catch to save the frisbee from almost touching the ground.
"Diving catches are the best. It doesn't matter who does it; if it's Coach G or a girl, if you make a diving catch, that will always stick in my head. Those are just the coolest things to watch because you're putting your body on the line, and you're going for it," said Sutterby.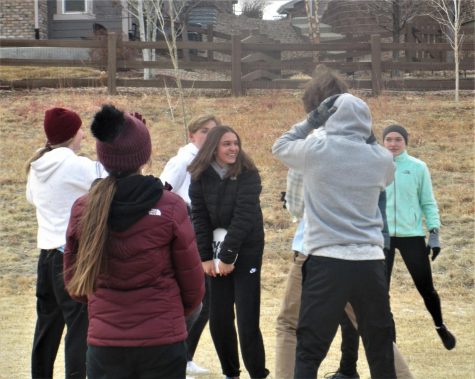 Frisbee is such a big part of cross country that the team would even play in 9 degree weather or when blazing hot out. It doesn't matter if it's snowing, raining, or windy; as long as they have a field and a frisbee, the team is outside catching and throwing together. "We play in harsh conditions because we're looking forward to it all week, and we still want to play because we put the work in to get to Friday, and we don't waste an opportunity that only comes once a week," said Gutjahr.
Though frisbee is a cross country tradition, the team opens their circle to anyone who wants to play. Often the siblings of the group or the children on the coaches will come and play as well. Cross country isn't one of the most popular sports played in high school and is very small compared to the other teams, but it's unique in its small way. With frisbee.
"People are welcome. It doesn't matter if you run cross country or you do soccer. It doesn't matter; you should show up and get to know some of the people because we don't bite," said Sutterby.
Leave a Comment