Toni's Top Albums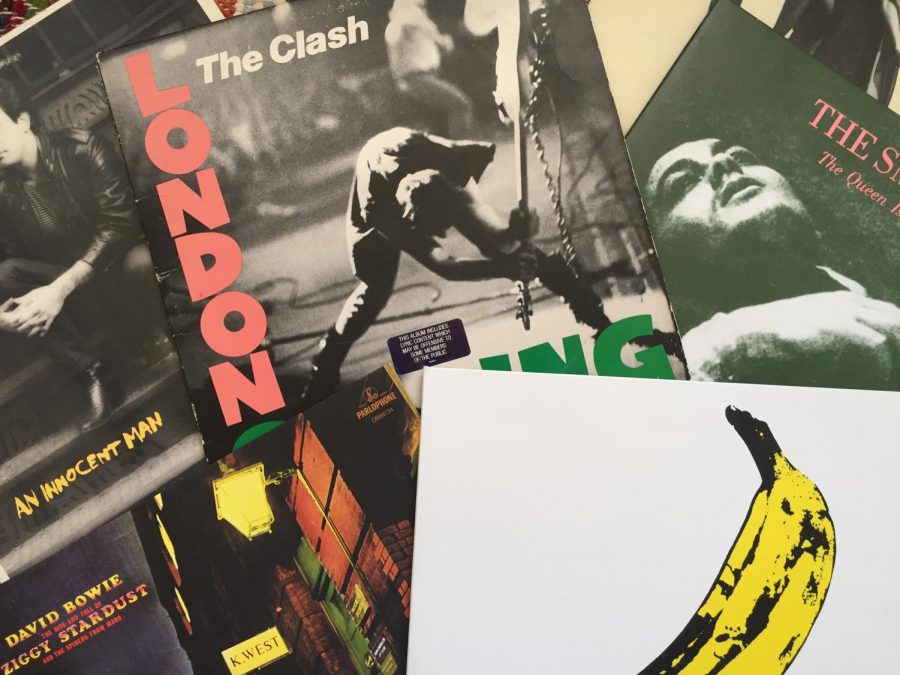 What are your interests? If you ask my acquaintances this question about me, many will answer with a reply involving newspaper or writing. But if you were to ask my closest friends and family members this question, they'd have various responses in addition to those involving newspaper. As EIC of The Guide, it is evident that journalism is my passion. I find joy in writing about politics and listening to the views of students regarding the pressing issues within our country. But aside from my love for newspaper, I have a plethora of interests, and I pride myself for being a pop-culture enthusiast. I love music, books, TV shows, movies, and everything in association with the '80s. If you bring up the topic of one of my favorite bands or movies within a conversation, be prepared for a passionate rant. Within the pages of The Guide you can find my name on stories that deal with politics within the features section, and I am continuously enthusiastic about writing these articles. But I've been craving a way to express my passion for popular culture and the other aspects of life and culture that I am interested in. So I turned to CTHS Today in order to share with you some of my favorites in pop-culture, starting today with music. Stay tuned for more discussion on some of the aspects of popular culture that I love most, and feel free to comment your thoughts!
-Toni Elton (EIC)
10. An Innocent Man- Billy Joel
To me, what constitutes as a good album is one in which every song is well played and arranged, has meaningful lyrics, impressive instrumentals, and resonates with my musical preferences. Billy Joel's ninth studio album, "An Innocent Man" meets all of these requirements. It includes  a total of 10 songs that are undeniably true to the rock-pop sound of Billy Joel, and the lyrics include themes of sexuality and adolescents that are a token of Billy Joel's musical personality.
9. Purple Rain- Prince
Prince's 1984 album, "Purple Rain", encompasses all of the beloved aspects of the artist's work. The album includes upbeat hits such as "I would die 4 U" along with slower and more thought provoking songs such as "When Doves Cry". Prince was a prominent image of self expression and the challenging of social norms, which can be observed within this album.
8. Parallel Lines- Blondie
Blondie breaks out 12 hits that are stay true to their roots in '60s pop while also experimenting with aspects of other genres such as rock and punk, in their third studio album, Parallel lines. Popular hits such as "Heart of Glass", "One Way or Another", and "Sunday Girl" are included on the album as well as some of the lesser known favorites of mine, "Picture this" and "I'm gonna Love You Too".
7. Rumours- Fleetwood Mac
A true classic. "Rumours" is a staple in rock culture as is the band behind it as a whole. Released in 1977, it was the eleventh studio album from the band. Although the band had already been creating music for ten years prior to the albums release, the addition of members Lindsey Buckingham and Stevie Nicks in 1974 amplified the production and helped formulate the original sound through the mixture of new voices and various instruments. "Rumours" includes popular songs such as "Dreams" and my personal favorite on the album, "Second Hand News".
6. The Queen is Dead- The Smiths
In regards to The Smiths, often people either love them or hate them. In my personal opinion they are one of my favorite bands (if not my most favorite) because of their melancholy and satirical lyrics that they contrast with unique melodies. "The Queen is Dead" consists of The Smiths most memorable songs such as "There is a Light That Never Goes Out" and "Bigmouth Strikes Again".
5. Rubber Soul- The Beatles
Released in 1965, The Beatles were at their prime when their sixth studio album, "Rubber Soul", was released. Before "Rubber Soul" The Beatles had a reputation of being a boy band that only young girls cared to listen to. With this album The Beatles became more fluid with their creativity and curiosity and added more emotions that extended beyond the typical love song template. "Norwegian Wood" from the album is one of my favorite Beatles songs of all time
4. Violent Femmes- Violent Femmes
Rough, loud, and obscene, The Violent Femmes had no restraints when creating their self titled album which they released in 1983. The debut album includes prominent bass lines that set the songs apart and add to the alternative/punk sound that the Violent Femmes added to during the 1980s.
3. The Rise and Fall of Ziggy Stardust- David Bowie
David Bowie is an artist the stands out in music history because what he produced transcended time and exemplified the fascinating peculiarity of his own conscience. In his fifth studio album released in 1972, David Bowie tells a unique narrative through the songs that make up "The Rise and Fall of Ziggy Stardust". What makes this album so amazing is that it was not only creative in terms of style and instrumentation, but it also introduced the world to a new Bowie persona that created an entirely new experience for the listener.
2. The Velvet Underground and Nico- The Velvet Underground and Nico
The Velvet Underground is one of my favorite bands, as they were the beginning and main influence of punk and alternative music. Mix them with the unique and talented Nico and Andy Warhol as a producer, and you've got something special. "The Velvet Underground and Nico" packs deep emotion and into creative instrumentals and thought provoking lyrics. This album is one of my favorites not only because the music on it is masterful and inspiring, but because of the culture that surrounded it. With Andy Warhol as a producer, this album was produced with the influence of many creative figures and artists that flocked together during the late '60s when this album was created and released. This album is a prime example of the rise of the counterculture and the power of art and questioning social norms. Not to mention, the album was recorded in the same building that would later become Studio 54-with that being said, you can't deny that this album was the source of the exotic and alternative sound that influenced many genres in years to come, including punk and even disco.
1. London Calling- The Clash
The most influential punk album and one of the most influential albums in general, "London Calling" is the third studio album by The Clash which they released in 1979.  It breaks musical norms and combines the band's rebellious and chaotic sound, with their musical creativity and experimentation. The Clash was a band that understood that punk music is more than just noise-it can be a tool for spurring social change, and this can be observed in the lyrics that make up this album. The song "Lost in the Supermarket" tells of Joe Strummer's (lead vocalist) troubling childhood, packing the album with emotions never expressed by the band before. In addition, "Clampdown" encompasses the resentment of oppressive systems within the government, incorporating The Clash's anti authoritarian image. My favorite song on the song "The Guns of Brixton" incorporates Paul Simonon's (bassist) rough and unique base line with Mick Jones' masterful lyrics to depict discontent towards the police as they were harassing African Americans on the streets during the time of the album's release.
This album is the raw and undeniable sound of The Clash as the band mates combined their talents, and tried things they've never done before without the restraints of toxic management after they fired their longtime manager Bernard Rhodes. The band rented out a small space called Vanilla Studios and recorded the album (19 tracks) on their own tapes. They experimented with different playing styles, incorporating reggae and other genres. Topper Headon (drummer for The Clash) had free reign to create new sounds with percussion as Mick Jones and Joe Strummer (lead vocalists) experienced a great flow of lyrical creativity. Bassist Joe Simmonon also incorporated raw and rough baselines that sustained the punk image for the band.
I could go on and on about this album-analyzing the cover, talking about the experience of the band members before and after its releases, speaking on its influence today and so on. But for now let it be said that I believe that "London Calling" by The Clash is the best album that's been created so far, and I will stand by that claim.
Head over to my Spotify to listen to a playlist with all of these albums on it!