Little Women: An Endearing Tale of Domesticity
This movie satisfies the soul. Well, sort of, considering the ending is not what I was hoping (why, Jo *sob*). Saoirse Ronan is as beautiful and talented as ever, and Florence Pugh comes out of nowhere, like a sucker punch, but in a really good way. Also, Timothee Chalamet. 'Nuff said. SPOILERS AHEAD.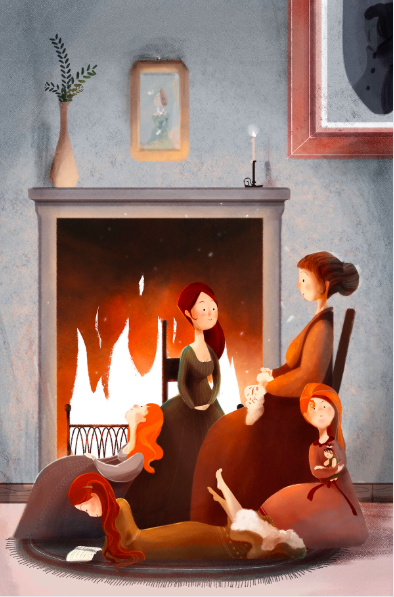 This movie hits. I just want to say that despite my readaholic nature I have not read Little Women the novel, so watching this movie was like seeing this whole world of classic literature for the first time, represented by one of my favorite actresses, Saoirse Ronan. 
Let's talk some more about Saoirse Ronan. She. Is. A. Powerhouse. She was in Brooklyn which was nominated for a ton of awards and Ronan herself was nominated for Best Performance by an Actress in a Leading Role, an award category she is intimately familiar with. She was nominated in that category for Lady Bird, a movie that I need to see. She found success in her acting in Atonement, with a nomination in Best Performance by an Actress in a Supporting Role. Okay, enough about her Oscar accolades. She's just plain awesome. She's a proud redhead, which I totally admire, and she's been in some of my childhood favorites. She was an excellent Jo March, passionate and fierce and intelligent.
Timothee Chalamet made an appearance as Laurie, the loveable and goofy boy next door that falls in love with Jo but doesn't end up with her to my ultimate surprise and disappointment. Man, that would have been one power couple. He's wild and unpredictable and flirty, everything a love interest should be in a film. His grandpa, Chris Cooper, was also super amazing and well-rounded in the movie but all I can see is him as the villain in the Muppets. What a shame. 
How do Ronan and Chalamet always end up in movies together? They were in Ladybird and Little Women together and are going to be in The French Dispatch, coming out in 2020, together. Hm, makes me wonder. If I were Saoirse, I'd be demanding to be in movies with Chalamet, you females feel me. 
I think a super cool part of this movie was seeing the relations between sisters grow and flourish, ebbing and flowing like the tides, a metaphor similar to Beth's, right before her death. It's coming throughout the whole movie, from the very first scenes with Beth, you can see Greta Gerwig's effort to make her important but not so important as to draw the whole film off-course when she inevitably kicks the bucket. I have two sisters, so watching this, knowing an eldest sister's daily struggles minus the whole poverty thing, I felt super connected to the film. 
My youngest sister is so similar to Amy, Florence Pugh's character, that I was sitting in my seat, shocked by the commonalities. They're both stubborn and sometimes inconsiderate, but also beautiful and funny and driven. I think the true gem nature of this movie lies in its relatability, any person with sisters can find some common thread within this film and that is what makes it so valuable.
Jo once said, in front of her sisters after being left a mansion by her petty Aunt March, "It's just a book about our little life, I doubt anyone will care," or something along those lines. Well, this book is a diamond, a lighthouse in the dark of Hollywood's sci-fi films and dystopians and horrors. I think that anyone with a brain needs the heartwarming experience that is this movie.