A Run-Down of the 92nd Oscars
From the tear-jerking performance of Grammy-award winner Billie Eilish to the comedic genius of Kristen Wiig and Maya Rudolph, as well as the actual Oscar Awards themselves, the 92nd Academy Award Ceremony was a night to remember.
The 92nd Oscar Academy Awards were held this past Sunday, Feb. 9, and the night was a whirlwind of beautiful gowns, stunning performances, and shocking (or maybe not) award winners. Here's what went down.
The night started out with the classic red carpet event, all the shining stars of Hollywood coming together to celebrate their industry, all while looking their finest. The L.A. Times hit the night's successes and flops right on the nose.
https://www.latimes.com/lifestyle/story/2020-02-09/best-worst-dressed-oscars-2020
Following the red carpet, Janelle Monae created an amazing, vibrant atmosphere with "Come Alive", a piece resplendent with floral headbands, backup dancers, and… Billy Porter? Earlier, the "Pose" star dazzled in a Giles Deacon dress on the red carpet but appeared in Monae's performance in a red jumpsuit getup. Porter and Monae blended their vocals perfectly, inciting the audience into matching their combined enthusiasm. The result? Leo DiCaprio hitting a hard note and Monae receiving a standing ovation.
And then the night really began.
Chris Rock and Steve Martin were the official not-hosts of the ceremony, a duo that shouldn't really have worked, but totally did. Rock made comments about the lack of female representation in the directors' nominations, as well as the whiteness of the event. Martin talks about the growth of the Academy from its inception in 1929, from no black nominees to a grand total of one nominee of color in 2020.
The first nomination of the night went to Brad Pitt, in Best Performance by an Actor in a Supporting Role for his acting in "Once Upon A Time… in Hollywood". Honestly, that was not surprising. Pitt went home with awards from the Golden Globes, the BAFTAs, as well as Screen Actors' Guild, Producers' Guild, and numerous state and national film critic associations. He seemed like a general shoo-in for the award. However, he was competing against Tom Hanks, who played the television star Mr. Rogers in "A Beautiful Day in the Neighborhood". First of all, how did it work out that Hanks, who played the man who created the namesake of the movie, ended up as the supporting actor? I guess we'll never know. Anyways, Tom Hanks also seemed to be an obvious choice. The two actors both have the same amount of Oscars now, as Hanks won for "Forrest Gump" and "Philadelphia", both of which he played the lead in, and Pitt won for his roles in "Once Upon a Time… in Hollywood" and "12 Years a Slave". Sheesh, what a mouthful.
Not only does Pitt have two Oscars now, but he also has another interesting acceptance speech under his belt. Earlier in the awards season this year, Pitt quipped about Quentin Tarantino's having "separated more women from their shoes than the TSA", a phrase that garnered a few giggles in the audience and a stony stare from Tarantino himself. When accepting his Oscar, Pitt took his speech to a less humorous spot. Or so conservatives, like Fox News, would say. 'Pitt's politically driven tone was significantly different than previous wins, where he kept it light with jokes and breezy speeches," said Fox News writer Tyler McCarthy.
Pitt talked about getting more time at the podium than John Bolton, a figure in the recent impeachment trial that Republicans in the Senate voted against hearing. "I'm thinking maybe Quentin [Tarantino] does a movie about it and in the end, the adults do the right thing," said Pitt in regards to the impeachment acquittal in Congress involving Donald Trump.
The rest of the awards seemed to fly by. The short animated film "Hair Love" won Best Animated Short Film and the audience was treated to a multicultural presentation of "Into the Unknown" by Idina Menzel, alongst a dozen of her linguistic comrades in song, a colorful performance by Sir Elton John of his original "(I'm Gonna) Love Me Again" that later went on to win Best Original Song, and Eminem. Jaws dropped, with moved expressions from Billie Eilish to Menzel, when Marshall Mathers himself made an appearance right before John and his counterpart Bernie Taupin were awarded the Oscar.
And then the ceremony began heating up.
Maya Rudolph and Kristen Wiig, that comedic power duo, announced Best Production Design, getting the audience laughing as the event moved towards the more notable awards, not that production design, amongst other incredibly vital aspects of the film industry, aren't notable in their own right. Even so, Rudolph and Wiig made Best Production and Costume Design as memorable as they've ever been, singing throughout their announcement of the award winners. Did anyone else catch the cringe on Eilish's face when Wiig hit that one note?
Overall, up until a certain point in the night, the winners of these awards felt mildly predictable. The certain point in which it became hard to predict came when Best Performance by an Actress in a Supporting Role. Personally, I had been rooting for Florence Pugh, her performance in "Little Women" deeply moving me, but alas, the Oscar went to Laura Dern for her appearance in "Marriage Story". Not that Dern isn't deserving, but I was so hoping for some Pugh appreciation.
The theme of the night seemed to be "representation". The ceremony started out with Monae talking about how she can perform as a black queer woman, then Rock making a comment on the lack of representation, and then Wiig and Rudolph making something as small as Production Design absolutely memorable and seemingly worthy of attention. Oscar Isaac, announcing alongside Salma Hayek, only added on to the flavor of recognition, of unbiased storytelling, by claiming "the Oscars are not so white this year."
Then, Will Ferrell and Julia Louis Dreyfus did a little bit of poking fun that only seemed to dampen the night, in my own perspective. They announced for Best Cinematographers, all the while playing as if they didn't know what cinematography was. It was supposed to be funny, get the audience laughing, yet I found it lacking in terms of comedic strength. If you've ever watched a movie with poor cinematography, you shudder, roll your eyes, and vow to never take people who move a camera with talent for granted again. At least I do. Minimizing that role seems a dangerous game to play. However, Ferrell's crack at film editors made up for it, saying, "You know, it was Ford v. Ferrari v. Ferrell!"
Let's talk about the Oscar commercials for a second. All I have to say is, they're better than the Super Bowl commercials. Some were similar, to a certain extent, but the M&M advertisements, specifically tailored to the "hot actor in the front row", a.k.a. Brad Pitt, as well as anyone else watching/attending the Oscars, just really topped the experience off with a metaphorical cherry. That's my #unpopularopinion for the day.
Parasite absolutely swept the Oscars, really mopping the floor with all the English films. As in, the movie got so many awards that when Bong Joon-ho was announced as the winner for Best Director, he didn't even get up at first, almost as if he couldn't quite believe that he had won yet again. "Parasite" made it home with Best Director, Best Original Screenplay, Best International Feature Film, and finally and most impressively, Best Motion Picture of the Year. The film is the first foreign film to win Best Picture, only solidifying its status as a groundbreaking piece of art. The film's acclaim is not undeserving.
In the category of Best Picture included films like "Joker", "Marriage Story", "Little Women", "1917", "Jojo Rabbit", "The Irishman", "Ford v Ferrari", "Once Upon a Time… in Hollywood", as well as "Parasite", the final winner. "Parasite" had already won a BAFTA, SAG, and Golden Globe Award, so it was basically already set in stone that it should win. However, I had high hopes for "Marriage Story", despite already knowing that it had reached its peak just by being nominated, because of Adam Driver. The film didn't stand a chance and everyone who saw "Marriage Story" (besides me) believed that Driver overacted, but I was hopeful that my Hollywood crush would get his day in the sunshine. Not today, Kylo Ren, the stars just weren't aligned. Next time.
For me, the climax of the evening wasn't the announcement of Best Picture, but the announcements of Best Performance by an Actor/Actress in a Leading Role. Those awards have always been the highlight of my Oscar viewing experience. This year, I can't say I was surprised but I was mildly disappointed.
The category of Best Performance by an Actor in a Leading Role held such talent in actors like Leo DiCaprio (who finally got his first Oscar in 2016 after his 35 years of acting), Antonio Banderas, Jonathon Pryce, and Driver, alongside Joaquin Phoenix, the winner of the award for his role in "Joker", Todd Phillip's Oscar-studded film. Phoenix spent his acceptance speech choked up while talking about the "egocentric" role that humans play, a further confirmation of his vegan lifestyle. He commented on the power of storytelling, an overarching theme perpetuated by earlier speeches and announcers in the evening. And he concluded his speech with a lyric written by his late brother, River Phoenix who died of a drug overdose in 1993, a truly beautiful avenue of wrapping up a rather long ramble. "run to the rescue with love and peace will follow," Phoenix finished with. "Joker" came away with Phoenix's win, as well as Hildur Guðnadóttir's in Best Achievement in Music Written for Motion Pictures. Try saying that name three times fast.
In the award of Best Performance by an Actress in a Leading Role, the category contained Saoirse Ronan (someone please tell me how to say her name correctly), Charlize Theron, Scarlett Johanssen, and Cynthia Erivo, plus Renee Zellweger, who went home with the Oscar for Judy. As I was watching the envelope painstakingly being unsealed, I was chanting "Saoirse! Saoirse!" (Of course, I was saying it wrong because Irish names are harder to pronounce than that one composer from "Joker", but it's the effort that counts, right?) Clearly, the film gods were smiling down on Zellweger, who took the BAFTA and the Golden Globe in this category. "When we look to our heroes, we agree," said the actress over the power of the Oscars, as well as film itself. "And that matters." The speech seemed… On the spot, in a phrase. There were a lot of "um"s and a general unprepared tone. Erivo, besides Monae and Porter, was the only person of color to appear on the roster for the night's guests. All of these women were incredibly talented and it's an honor to have even been nominated, but I won't lie, it seems almost a repeat of last year's Leading Actress award, in which it becomes hard to comprehend the win of one actress over a powerful pool of nominees, like this one. Oh well. Go, Renee.
In summary, Laura Dern wore a nightgown/lampshade dress, Billie Eilish showed up with her electrifying hair, Kobe Bryant was honored by both the annual In Memoriam presentation (he did win an Oscar, once upon a time) and Spike Lee, dressed to the nines in Lakers colors and Bryant's jersey number, and South Korean film broke barriers. The night was one to remember, with Rebel Wilson and James Corden, horrifyingly, bringing out their costumes from the doomed Cats and representation of all cultures only growing in recognition.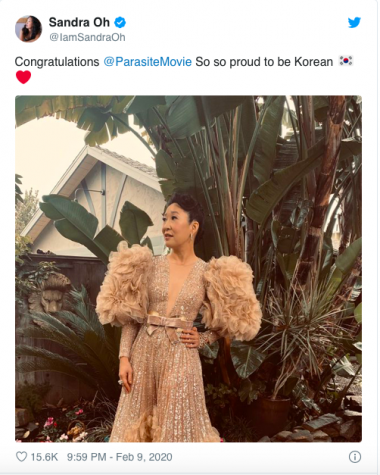 For more information about the night, click below.
https://www.vulture.com/2020/02/who-is-writing-brad-pitts-awards-season-speeches.html
https://www.foxnews.com/entertainment/brad-pitt-oscars-2020-speech-senators-john-bolton-impeachment