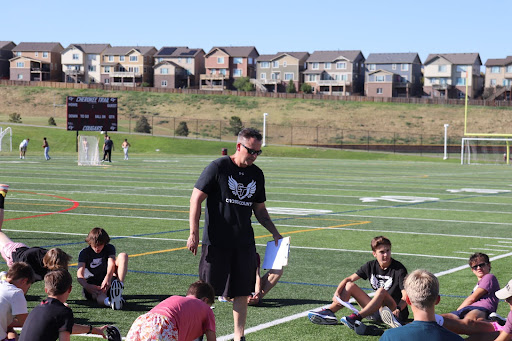 On the last day of the 2023 State Track and Field Championships, the Cherokee Trail Boys track team was the clear favorite. To ensure bringing the first-place trophy home, the 4×1 team had a job to do. If the four-by-one team fell behind Erie in this race, the Cougars could lose the state championship. As each team comes around the last curve of the race, the Cougars pull away, and it is clear that Coach John Faust is going to take home his 5th state championship in 20 years. The athletes and coaches on this championship team accredited this win to the hard work and dedication put into the last track season,
  "I'm really happy for everybody that's involved. It's such a process that it's just awesome to see it come to fruition," said Faust. Although Faust is no stranger to winning, winning on the biggest stage means a little bit more. "When it finally happens and you win, it's just the best feeling and to see the kids celebrating, and coaches celebrating and know how much goes into it. It makes it worth it."
  Faust started coaching in 2001 and has built a perennial powerhouse in the track and cross-country programs that now dominate Colorado athletics. "I'm pretty passionate about it. I'm a track nerd. I think about this stuff all the time. I've already written up lineups for the upcoming track season of who's going to be doing what and what our goals are," said Faust. His athletes describe him as a hands-on teacher and mentor. "He really listens to us, and that might not be what all people need, but it's definitely what makes us successful for sure," senior sprinter Kahari Wilbon said. 
  Faust's success this past season has earned him the honor of being named Colorado's Boys Coach of the Year by the USTFCCCA (U.S. Track And Field and Cross Country Association). This was his second honor by the USTFCCCA. He received his first in 2018 on the girls' side after leading them to a Track State Championship. When asked about what this award meant to him, Faust said, "It was a big deal, but not because of me. It was a big deal because of how many people reached out to congratulate me, and how excited it seemed to make a lot of people. Winning that award is an indication of how we are doing things right, and how hard our kids and coaches are working."  For Faust, the award is more of a reminder of where hard work and consistency can get you, and possibly an extra push to keep doing what works this cross-country season, and this upcoming track season.
   Faust was named Boys Coach of the Year back in July, and since then it's been nothing but usual business for him. "We're focused…we've won league championship four straight years, trying to win a fifth straight one in cross country, and then find ways to get those senior guys on college teams next year," said Faust.  
  Even with so much success, Faust and his team still find a way to not be satisfied and continue to make strides to better themselves. One can only imagine how much pressure and noise surrounds you when you're the head of two powerhouse programs, but Faust doesn't let any of that affect his coaching, or shake his focus. "You have trust to do the job the way you know you should do it. You can't let other people dictate how you coach how you interact with people," said Faust. 
  With the same goals in mind, Faust wants to challenge the track team to shoot for more than just being state champions again, "Let's not be state champions. Let's be the best boys' team in the History of Colorado. Let's go qualify for every event. Let's put somebody on the podium in every event and score in every event." Faust said. There is still a lot of time before the season, but Faust and Cougar Nation are excited to watch it play out.