Presidential Problems
Trump's popularity shows signs of dwindling as impeachment continues to accelerate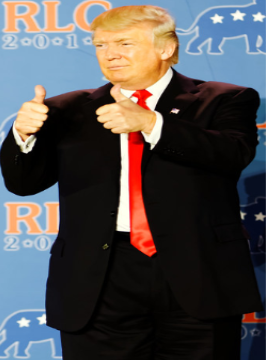 President Donald Trump has had a rough go of it for the last couple of weeks.
Trump's series of unfortunate events started with his now-infamous "Colorado wall" comments.
"And we're building a wall on the border of New Mexico and we're building a wall in Colorado, we're building a beautiful wall, a big one that really works that you can't get over, you can't get under and we're building a wall in Texas. We're not building a wall in Kansas but they get the benefit of the walls we just mentioned," said Trump while speaking at the Shale Insight Conference in Pittsburgh.
The president was seemingly referring to his long-promised border wall in his statement. The only problem? Two of the four states he mentioned didn't happen to be border states.
The president's claims created quite a buzz on Twitter, with citizens, media members, and even members of the government responding to the controversy.
"Let me repeat: There isn't an elected leader from the state of Colorado who would support using eminent domain to steal the property of our farmers and ranchers to build a medieval wall," said Colorado Senator Michael Bennet.
"Is NEW Mexico gonna pay for it?, "Representative Diana DeGette said in response to Trump's claims.
"Well this is awkward …Colorado doesn't border Mexico. Good thing Colorado now offers free full day kindergarten so our kids can learn basic geography," Colorado governor Jared Polis said.
Trump later tried to take back his comments, sarcastically commenting "We're building a Wall in Colorado"(then stated, 'we're not building a Wall in Kansas but they get the benefit of the Wall we're building on the Border') referred to people in the very packed auditorium, from Colorado & Kansas, getting the benefit of the Border Wall!"
The fiasco kicked off a chain of events that made an already tumultuous week even worse for the administration. On Sunday Oct. 27, Trump attended game five of the world series in Washington and was greeted with loud boos and jeers from the crowd, leaving the president visibly upset. On top of that, the impeachment crisis facing Trump's presidency intensified earlier this week with Lt. Col. Alexander Vindman's testimony to house impeachment investigators.
In his testimony, Alexander Vindman, the National Security Council's top Ukraine expert, alleged that he attempted to change the White House's transcript of a July call between Trump and Ukraine President Volodymyr Zelensky in hopes of making it more accurate, but his edits were not implemented or possibly reversed after they were made. The call, in which Trump reportedly pushed for Ukraine to investigate potential 2020 democratic opponent Joe Biden in exchange for military aid, is now the center of the impeachment investigation.
In an attempt to defend himself, Trump and his GOP allies repeatedly attempted to smear the reputation of the anonymous whistleblower who expressed concern over the contents of the call and set off the impeachment inquiry. Trump referred to the whistleblower as an "Obama person" who "hates Trump." These attacks have escalated as of late, possibly due to the fact that the impeachment process is shifting into a much more public phase.
As the cherry on top of Trump's nightmare, he was greeted with a deluge of boos from spectators while attending UFC 244 in Madison Square Garden on Saturday. Although multiple videos from the event show the President getting at best a mixed reception, Trump and those who attended the event with him tried to spin the episode in a positive light.
"What a joke," said Trump's son Eric Trump on Twitter, responding to a BBC clip showing the boos. "You are the most dishonest people. The audience was chanting 'Donald Trump, Donald Trump' followed by 'USA USA.' Dana White said it was the greatest entrance he has seen into a UFC. I can't wait until we win again in 2020 to further embarrass your profession. #FakeNews"
(Kiddingly) We're building a Wall in Colorado"(then stated, "we're not building a Wall in Kansas but they get the benefit of the Wall we're building on the Border") refered to people in the very packed auditorium, from Colorado & Kansas, getting the benefit of the Border Wall!

— Donald J. Trump (@realDonaldTrump) October 24, 2019
Well this is awkward …Colorado doesn't border Mexico. Good thing Colorado now offers free full day kindergarten so our kids can learn basic geography pic.twitter.com/bEXLDJYUku

— Jared Polis (@GovofCO) October 23, 2019