Meatless Meat Has Gone Mainstream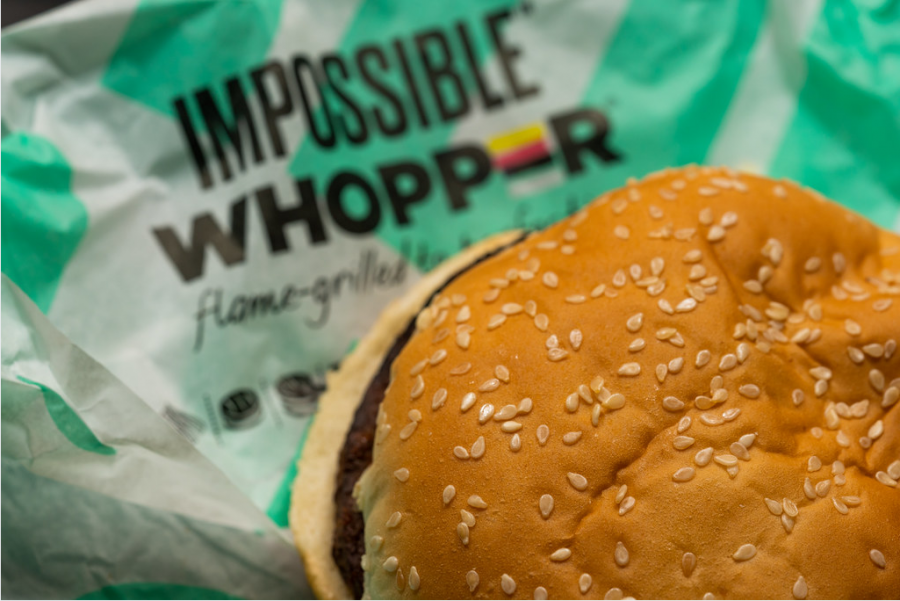 Of all the new products that burst onto the scene in 2019, none had a bigger breakout than plant-based meat.
The idea of plant-based meat has been in circulation for some time, but now that the design is seemingly perfect, "impossible" meat has become more popular than ever. Among the numerous improvements, the new "meat" has made over previous plant-based meat alternatives is the emphasis on true meat imitation. The newest iteration of meatless meat makes extensive efforts to imitate the texture and taste of real meat.
Meatless meat has resonated among all age groups, with students even entertaining the possibility of trying it. "I haven't had it yet, but I'm very intrigued," said Cooper Druck (12). "I definitely want to give it a shot."
The product's rise has mainly been buoyed by two companies, Impossible Foods and Beyond Meat. Both kinds of meat can be found in grocery stores and fast-food establishments, but even with their meteoric rise in popularity, the release of both is still somewhat limited. Beyond meat can be found in stores such as Albertson's, Walmart and Safeway; Impossible Foods products don't have quite the same reach, as they can only be found in Gelson's Markets, Wegmans, and Fairway Market.
Where meatless meat has made its biggest impact, however, is the fast-food industry. Meatless meat has made its way into the menus of some of America's most popular fast-food joints. Burger King's Impossible Whopper, for example, has already gotten off to a hot start. As reported by Heavy.com, "RBI, Restaurant Brands International, is the parent company of Burger King and recently announced that the successful launch of their Impossible Whopper drove comparable sales growth of 5% in the US." Other popular restaurants are incorporating plant-based meat into some of their products as well, but such products are split along company lines as well: Impossible Foods cover establishments such as Applebee's, Burger King, Little Caesar's, Qdoba, and Red Robin; Beyond Meat can be found at restaurants Del Taco, Subway, TGI Fridays, and Carl's Jr.
Beyond the obvious draw of being a healthy and yet appetizing alternative to regular meat for vegetarians and vegans, plant-based meat also has some unexpected benefits. For one, a rise in meat alternatives and their consumption could actually aid our fight against global warming, as doing so would result in the reduction of the number of methane-producing cattle. Some also believe that a more plant-heavy diet will help to combat antibiotic resistance.
However, meatless meat has also faced its fair share of backlash. The CEO of Whole Foods and the CEO of Chipotle both criticized Beyond and Impossible products, alleging they were too highly processed. Burger King is also currently facing a lawsuit over their Impossible Whopper; Phillip Williams, a vegan and the plaintiff in the case argues that the burgers are "contaminated" due to the fact that they are cooked on the same grills as their meat-filled counterparts.
Even with its flaws, meatless meat's exponential rise to stardom over the last year can't be overlooked, and it should be interesting to see what the new decade will for the products.