What is Parasite?
A review of the award-winning film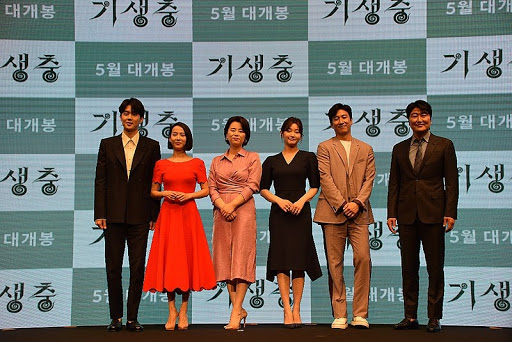 In South Korea, names are presented surname-first. As a result, Director Bong Joon Ho will be referred to by his last name, Bong, along with actors involved.
This past Sunday, visionary director Bong Joon Ho unexpectedly swept the 92nd Annual Academy Awards, winning four separate Oscars for his 2019 film "Parasite." Winning Best Original Screenplay, Best Foreign Language Film, Best Director, and Best Picture, Bong proved to be a dark horse for an American audience that had mostly not heard of his film.
So what is "Parasite"? The picture tells the story of the Kims, a lower-class family in South Korea, scamming their way into working four separate jobs under the über-rich Parks. While that plot may seem simple, there are so many twists and turns and genre changes in this almost two and a half hour ride, it seems like a poor description of the actual film.
Traversing comedy, drama, thriller, and even horror, "Parasite," especially in the last 20 minutes, left me with my mouth agape in shock, unable to peel my eyes away from the screen. The various plot twists keep you continually engaged, wondering, "How could this movie get any crazier?" But, even if you think it can't, it always does.
Song Kang-ho, Park So-dam , and Jo Yeo-jeong steal the show as Kim Ki-taek and Kim Ki-jung , father and daughter, and Park Yeon-kyo , the matriarch of the upper class family of four. Park is particularly outstanding, playing Ki-jung, or "Jessica," who masquerades as an art therapist for the family's wild son. Her iconic scene, "Jessica, only child, Illinois, Chicago," is seen in the movie's trailer and has been stuck in my head for weeks. Park plays her character with such charisma and intelligence that you can't help but take a liking to her, making her many viewers' favorite out of the Kims. Her fictional father, Song Kang-ho, who is a frequent collaborator with director Bong, acts with such versatility and vigor, it's surprising he wasn't also nominated for Best Actor. Finally, is Jo Yeo-jeong, playing the "simple" rich mother Park Yeon-kyo. Jo is also featured heavily in promotions for "Parasite", and with good reason. Her performance as a gullible, ditzy woman is surprisingly well done, even making her likable at some points.
A point of discussion is the meaning of the film; Who is the parasite? The obvious, simple answer is that it's the Kims, infesting the Parks' homes and feeding off of them, but looking deeper, the idea switches to the Parks. As the elite, they manipulate and use lower class citizens that work for them without a second thought, only worried about themselves, feeding off the hard work of others. But, a second-act twist throws a wrench into the entire discussion, making viewers question who the actual parasite is.
Engaging, amusing, and thought-provoking are among  the many compliments I could give it, "Parasite" is one of my favorite movies ever, and definitely one of the best movies of the decade, deserving every award it has won, especially being the first international film in history to win Best Picture. I recommend everyone to watch it, as long as you can get over what director Bong calls the "one-inch hurdle of subtitles."