Catering Cookies for Corona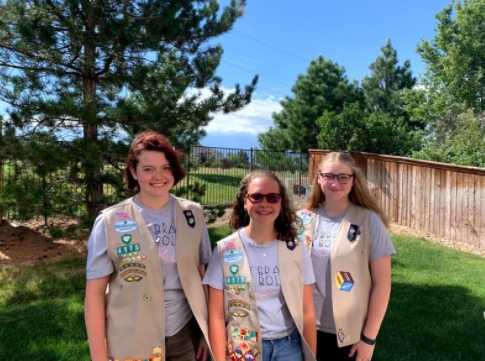 Classic coconut Samoas, refreshing Thin Mints, and nutty Tagalongs; from grocery storefronts to door-to-door, the Girl Scouts have been a strong part of American living for more than a century. One of their most notable activities is, of course, cookie selling. Suburban life wouldn't be complete without the chime of a doorbell to signify the arrival of sweet treats. Those green boxes of sugar and delight bring a brightening mood to the first six months of the year.
But this year is in a league of its own. This year, everyone has faced struggles and challenges that tested the people's willingness to push forward through troubling times of uncertainty. Now, in 2021, nearing the first anniversary of when this all began, communities are still striving to enact as much normalcy as possible while still maintaining safety. Even the Girl Scouts, an ever-present institution advocating for positivity, unity, and leadership, must face these hardships head-on to continue their tradition of dessert distribution.
However, while some scouts still scour the streets to sell their sweets, like everything else in this modern-day, they've adapted to the ever-evolving world of technology. With services like Amazon, online shopping has become more and more prevalent in today's age. Current independent Girl Scout and Cherokee Trail student Micaya Koenig (11) explained how the process of ordering and delivery has developed recently, especially due to the virus.
"So it's dependent on the region and state, but I know in Colorado most King Soopers and other stores, in general, aren't open to booth sales, and I know that I and all of the other Girl Scouts I'm friends within Colorado aren't doing any door-to-door sales this year either," says Koenig.
Even with a website, some people still prefer to interact with others while they shop. Some troops have managed to regain some traction though in terms of in-person selling. While they still offer their virtual booth, Troop 4175 with sophomore Alexia Jisa has managed to maintain their mobile cookie-selling station with face-to-face communication.
"Our Troop got approved by our council to sell at our neighborhood pool/clubhouse, so we do booth sales there. We make sure to wear masks and social distance to the best of our abilities at these booth sales," said Jisa (10). This doesn't mean this is all her troop has to offer though.
Through the site Jisa created herself, her customers can visit and learn about the organization, do fun activities, and, of course, buy cookies. This option allows for contact-less delivery for those who desire a safer decision.  Troop 4175 also dedicated their Hometown Hero to the Children's Hospital as their way to give back to the community during these concerning times.
"Hometown Hero is basically when our troops pick a place or organization to donate cookies to at the end of each season. And it seemed like the perfect year to pick Children's Hospital," said Jisa (10).
Overall, most would consider the Girl Scouts an institution that focuses on community and interaction, so how will an era of little to no interaction affect their business? Even with the addition of virtual booths over the years, no pandemic has ever occurred in this day to prepare the scouts for this. Junior Natalie Burson at Eaglecrest High School delivered her thoughts on how sales will be changed.
"I don't think they'll be affected too much because we can do online sales and we can deliver to people's houses," said Burson (11).
Today, normal is hard to come by; living day-to-day is nothing like it used to be a year ago. Masks and distancing are necessary to keep the community and the world safe, but any kind of resemblance to life before the coronavirus is what people need to keep fighting this. Traditions like the Girl Scouts remind the community of unity and cooperation, two skills we need in times like these.