Wish kid to CT student: Payton Allen's journey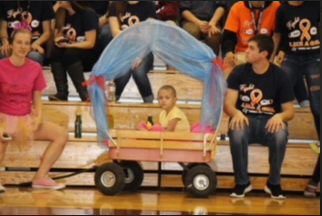 Payton Allen (10) was 6 years old when she was featured as Cherokee Trail's Wish Week kid in 2015. She battled lymphoblastic leukemia but now she enjoys hobbies such as dirt biking, playing the guitar, and horseback riding.
As students make their way through the halls, pushing and shoving to get to the Wish Week assembly, Freshman Payton Allen, takes her time. Carefully walking to the gym, she takes her seat as hundreds of eyes stare down at her. While this is a time of giving back for most students, it can bring up some pretty traumatic experiences for students such as Payton who got to experience Wish Week through the eyes of a Wish Week kid. 
When Allen was just six years old she was diagnosed with lymphoblastic leukemia. 
 While she doesn't remember how she was selected, she does remember the impact of the event. "I remember the whole student leadership group and they put on so many cool events for me and my family and they made me all feel very safe." Allen says. The CT community continues to try and make every kid feel the same way Allen felt and impact the lives of young kids everywhere. 
"We make them feel important, we want them to know that they are loved," said Isabelle Hoy, a sophomore student in leadership at CT. 
Since Allen's time in the Make a Wish program, she has grown tremendously and taken up many hobbies such as dirt biking, horseback riding and playing the guitar. Along with these hobbies, she is working towards giving back to her community the way they gave to her and has applied to be part of the leadership program. "I want to help people because I know how happy it made me and how much it made me want to grow as a person now and how it leaves a legacy on who I am as a person." Allen says. 
While Allen no longer has to battle the life threatening disease she was diagnosed with as a child, she continues to grow as a person despite everything she has faced.