Toni's Top Songs to Listen to During Quarantine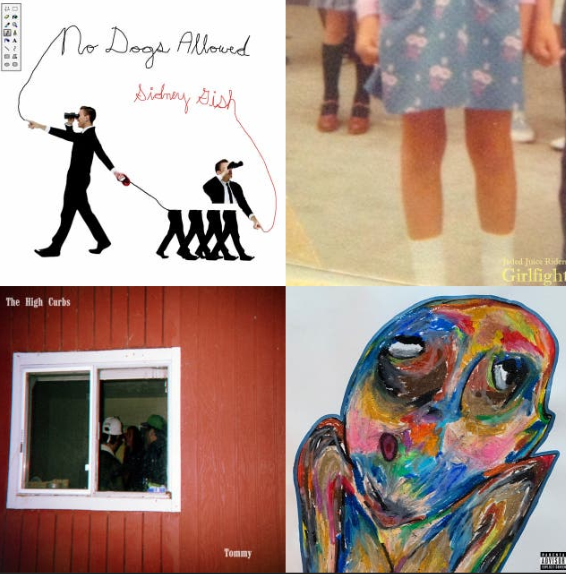 https://open.spotify.com/playlist/3lsmkAvRVnOYjEkDjIber2?si=EqSaj3QzQaKZ8CCqr_J-FA
What are you doing to pass the time while stuck at home? Maybe you're staying on top of your schoolwork, finding new home workouts to try out, or learning a new hobby like cooking or painting. Whatever it is, there's nothing like some new tunes to accompany a task or project. I've spent some of my quarantine time searching for songs that perk my interest and let my mind feel a bit more at ease while I wait for some normalcy to be reintroduced into my life. I hope you check out these songs and find them as enjoyable as I do. Here's the playlist and some information about these tunes:
Window–Still Woozy
A new release from Still Woozy, "Window" doesn't fail to make me want to get up and dance my cabin fever away. Out of all of the songs on this playlist, this one is most likely to be a crowd-pleaser. Still Woozy is known for his ability to combine various styles of music including alternative and pop with a techno edge. Give this one a listen and check out a few of Still Woozy's other songs here:
https://open.spotify.com/artist/4iMO20EPodreIaEl8qW66y
Blackies–Jaded Juice Riders
I was drawn to this song because of the slight muffle of the upbeat vocals that give it a vintage sound. This song conjures up feelings of bittersweet nostalgia as if looking back at the good old days of meeting up at a favorite hangout spot with friends. The perfect song to cheer you up yet also spark some reflection during your quarantine time. 
I Eat Salads Now–Sidney Gish
Where do I start? Sidney Gish is an interesting artist. Her style of vocalization is more like a melodic speech as compared with the traditional expectations from female artists (you know what I mean-voices of an angel speaking about romance). Anyways, this song is upbeat and easy to bop to with harmonious backup vocals and humorous lyrics that will keep you wanting more from this strong female artist. Check out Sidney Gish:
https://open.spotify.com/artist/2orBKFyc84jo9AZH5jarhI?si=fztES5UlQ7GwoVF1BhXGvA
Ghost–The High Curbs
For those that love punk or rock, this one's for you. The High Curbs offer a wide range of songs that mix various styles of rock music with a punk influence, in my opinion. This song is packed with rough guitar riffs and harsh vocals that make your blood pump-who doesn't want that while stuck at home?
Sandman–Trudy and the Romance
Trudy and the Romance are a unique band that makes me feel like I'm living in a 50s romance film when I listen to them. The melodic vocals of the lead singer, Oliver Taylor, transports you back to the era of pompadours, leather jackets, and Donna Reed dresses (sorry for the stereotypes). The simplicity of the lyrics in conjunction with the harmonious lead and back up vocals make my heart full and my brain thinking about what love was like in the 50s- a great experience when basking in the recent Colorado sun.
Brian's Movie–Peach Pit
Peach Pit has been making good "indie" tunes since 2016, with the release of their song "peach Pit" which may be familiar to a lot of you. Typically slow and rhythmic in their songs, Peach Pit crafts new energy in their 2020 album"You and Your Friends". My favorite song (actually second favorite to Shampoo Bottles, listen here-https://open.spotify.com/album/49vxfHuOyaPsyox8D377Tb?si=q3KRfRNpRZyL50WCxE3b7A) on the album, 'Brian's Movie' is an upbeat song with intriguing guitar riffs and styles. This one gets two thumbs up from me and my friends (bad pun?).
Toca La Guitarra–Professor Caveman
I had never heard or listened to Professor Caveman when this song appeared on my Spotify Discover Weekly playlist. But I was pleasantly surprised considering. This song is so fun and energized. The fast-paced lyrics and impressive bass lines in conjunction with the bridge including Spanish phrases create a fun blend of sound that will have you up on your feet.
Dying For–Dehd
Dehd is one of my new favorite bands that I have discovered this year. I'd heard a few other songs off of their album "Water" when it was released last year, but after returning to their music again, I stumbled upon this gem which led me down a rabbit hole of their individualized sound. "Dying For" is like a breath of fresh air-it's new, refreshing, and exhilarating all at the same time. I highly recommend listening to this song if you only pick one on this playlist to tune into. 
Other great tunes by Dehd:
https://open.spotify.com/artist/6yzuBFtT6dK2aQMZJZtcB1?si=piCzSOJnQ1uqX7ZqE9O53A
Surf Song–Sean Henry
Pure fun. This song, like a lot on this playlist, uses interesting guitar styles that draw you in. Not to mention, they even add in some cowbell! The lyrics are youthful and funny (who doesn't love a song that uses the word Jello?) and paired with an exciting rhythm, this song is sure to keep your mood high and worries low. 
Spring Has Sprung–Skegss
Along with Dehd, Skeggs is a new band that I have found this year that I have fallen in love with. The Australian band packs their music chock-full of good vibes, especially in this song that is perfect for hot days and car rides with the windows down (when you're needing to get out of your house). What I like about Skeggs, aside from the vocals that are a little rough around the edges, is the way that they pair their percussion and rhythm section with the guitar and vibrant backup vocals. Listening to them makes me think of summer and living free. A few of my other favorites by them are, L.S.D, My Face, Mustang, Spinning, and New York California.
Bonus track:
Listen to Skeggs' cover of "Here Comes Your Man" by Pixies with a sick intro from the Velvet Underground's well known and loved, "I'm Waiting for the Man". It's so good. https://open.spotify.com/album/4sSiGdhJ0owaS6mCSzu0eQ?si=TrzT7AEySgSfBMa_c-fT2w
Also, if you love 'em go take a look at their sweet merch:
https://spacemirrormerch.com/collections/skegss
End Summer–Goth Babe
Different from a lot of songs on this playlist, Goth Babe's 2020 release "End Summer" mixes electronic beats with melodic vocals, allowing my mind to wander off to a carefree space. Goth Babe has many other songs that provide that perfect balance of upbeat rhythms and calming vocals, perfect for the warmer weather and days indoors spent daydreaming.
Song for a Friend–The Slaps
Here's another song with a slight muffle in the vocals. For some reason, the fuzz in the vocals along with the vibrant rhythm section creates a sound that allows me to reminisce and reminds me of warm weather and good times. This song is simple and pleasing to listen to when you need a little peace of mind.
Here are three more songs that I'm listening to right now:
Lazy Together–Sea of Lettuce
Walden Park–Dinner Time
Now I Live–The Beets
I hope you enjoy a few of these tracks and discover some new bands to fill your ears with pleasant noise while spending time at home. I hope all is well for you and your family. Stay safe and listen to good music!